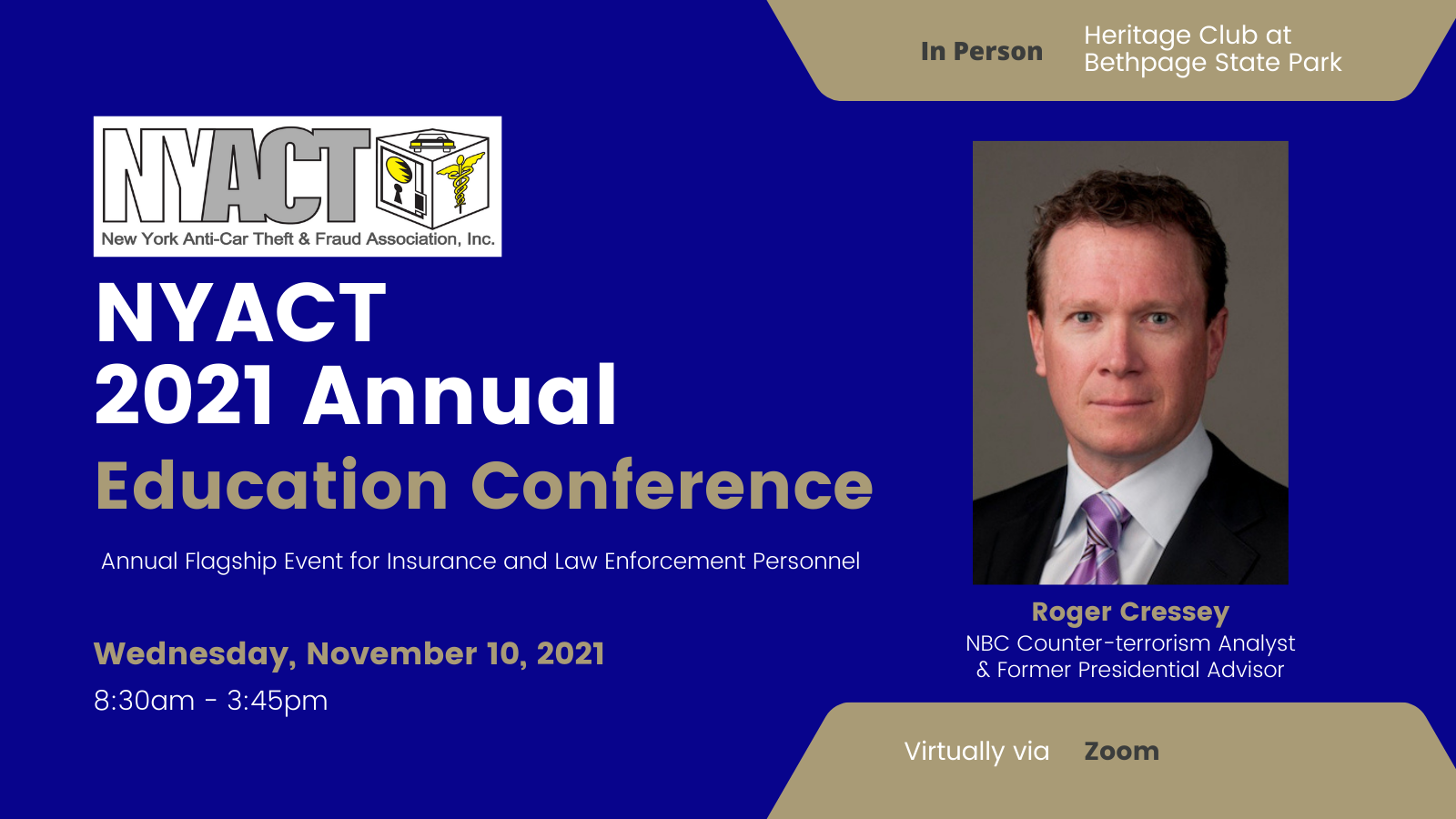 NYACT 2021 Annual Education Conference
Wednesday, November 10, 2021
Registration/Sign In: 8:30am
Program: 9:00am - 2:00pm
In-person: Heritage Club at Bethpage State Park
99 Quaker Meeting House Rd, Farmingdale, NY 11735
Virtually: via Zoom
We're planning the path to success and safety for all this fall. The NYACT Annual Education Conference will be offered as a live event and virtually—so everyone, everywhere can join together. In-person registration will only open to attendees that have proof of either a completed Covid19 vaccination record, or a negative Covid19 test from within 72 hours prior to arrival to insure everyone's safety and well-being. All in-person attendees will sign a Waiver and Release of Liability for Communicable Disease when registering. Non-vaccinated attendees will be required to wear a mask throughout the event.
---
Agenda*
8:30 AM - 9:00 AM
Registration Opens
9:00 AM - 9:15 AM
Opening
9:15 AM - 10:15 AM
Gathering Intelligence Online – 2021 Trends, Techniques, & Tricks
Joe Stephenson, Director, Digital Intelligence, INTERTEL, Inc.
This presentation will identify new avenues where evidence can be located with an emphasis on new search techniques, hashtags, emojis, websites, and linking data between platforms. We will touch on the authentication and validation of online evidence, digital records retention policies, artificial intelligence, and social media trends for the immediate future.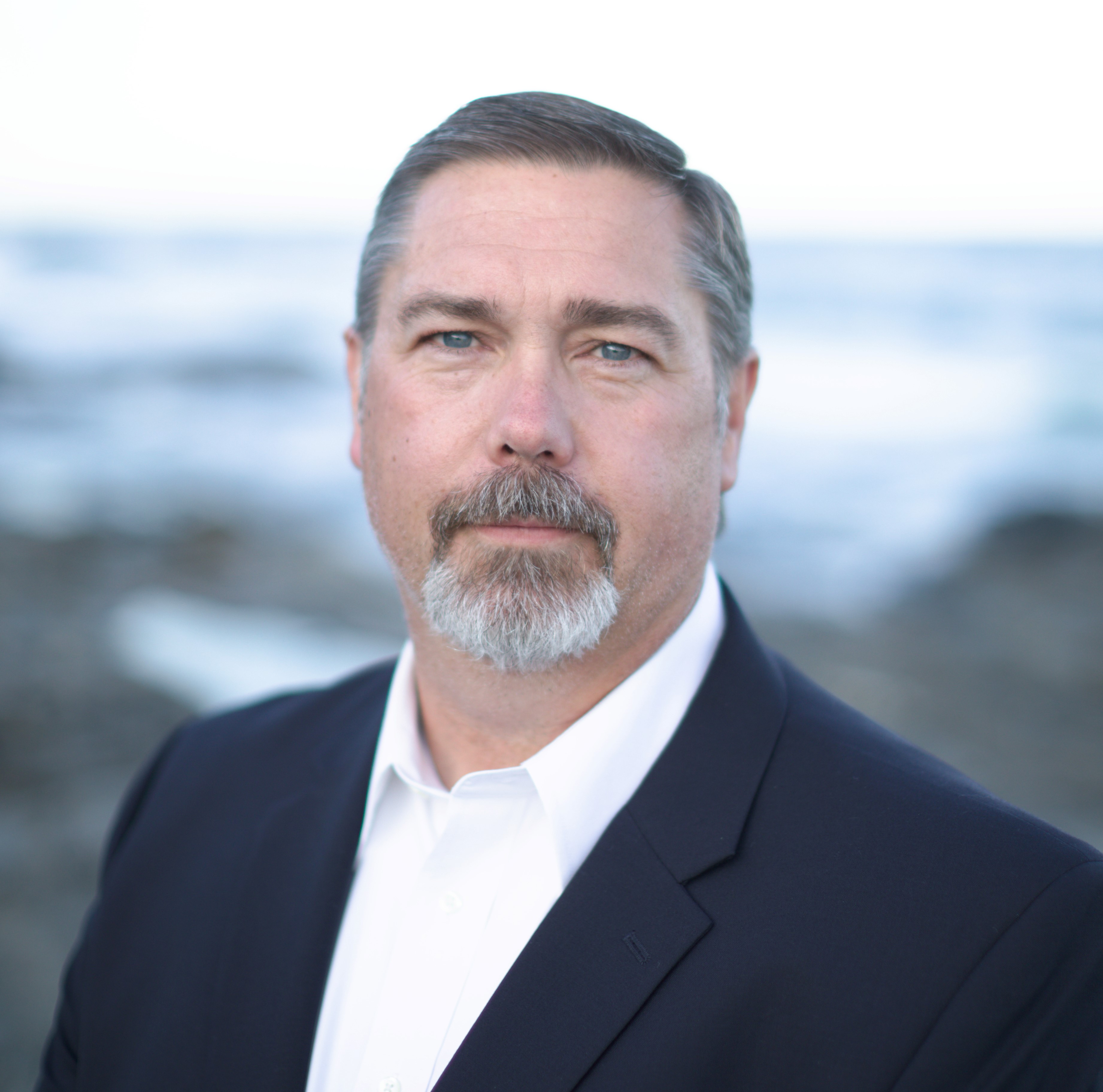 Joe Stephenson is the Director of Digital Intelligence for INTERTEL, Inc. and an internationally recognized expert in the field of Social Media and Open Source Intelligence (OSINT). With over 30 years of investigative experience in both the private and public sectors, Joe spearheads the development of innovative products for fraud detection and analytics, particularly those that draw from Social Media, Deep Web, and IoT data. Joe is a former Board of Director for IASIU and Northeast IAATI, and past President of the New England Chapter IASIU. He is a regular contributor to SIU Today and the AFA newsletter, where he discusses practical online techniques investigators can use in their day-to-day investigations. You are encouraged to connect with Joe via LinkedIn, and as always, never hesitate to reach out to him with questions you may have at [email protected].
10:15 AM - 11:00 AM
Fraudulent / Expired Temporary Tags in NYC
Richard A Lois, Sergeant / Law Enforcement, New York City Sheriff's Office

Thousands of fake temporary license plates are being used by criminals to literally try to get away with murder and other crimes in New York State.  The explosion in temporary paper tags across the tri-state is making getaway cars at crime scenes difficult to track, as well as enabling drivers to evade tolls at crossings across the tri-state area. Current investigations of drug-traffickers, terrorists, gang members and organized theft rings have all seen a rise in the use of these fraudulent paper tags.  This program will provide an overview of the temporary and fraudulent tag problem in New York City and its financial impact on local and state government.
Richard A Lois is a Sergeant in the Office of the Sheriff of the City of New York, a division of the New York City Department of Finance, operating as an enforcement arm. Sargeant Lois has been a Law Enforcement Officer for 27 years. His experience includes Field Supervisor of the Road Patrol Unit, a certified Police General Topics Instructor, Firearms Instructor, and Use of Force Instructor.
11:00 AM - 11:15 AM
Break
11:15 AM - 11:30 PM
Award Presentations
11:30PM -12:30 PM
KeyNote Presentation ~ VIA ZOOM
Roger Cressey, NBC Counter-terrorism Analyst & Former Presidential Advisor
Roger Cressey is a Partner with Liberty Group Ventures, LLC in Arlington VA, a risk and crisis management firm specializing in cyber security, campus security and sports security. He most recently served as a Senior Vice President at Booz Allen Hamilton, supporting the firm's cyber security practice in the Middle East. Prior to joining Booz Allen, he was President and Founder of Good Harbor Consulting LLC, a security and risk management consulting firm.Mr. Cressey's government service included senior cyber security and counterterrorism positions in the Clinton and Bush Administrations. At the White House, he served as Chief of Staff of the President's Critical Infrastructure Protection Board from November 2001 – September 2002. He also served as Deputy for Counterterrorism on the National Security Council staff from November 1999 to November 2001. He was responsible for the coordination and implementation of US counterterrorism policy and managed the US Government response to multiple terrorism incidents, including the Millennium terror alert, the USS COLE attack, and the September 11th attacks.
AT THE PODIUM
Roger Cressey applies his knowledge and expertise from both corporate and government backgrounds to explain how today's cyber security requirements extend beyond traditional IT networks. Movement toward the Internet of Everything is creating interdependencies between networks, devices, and users that were impossible to predict just a few years ago — along with a long list of security and privacy challenges. In plain yet detailed terms, he explains why the threat environment is only one part of the equation and why managing cyber risk in an interconnected workplace is everyone's responsibility.
BIOGRAPHY DETAILS
Since 2004, he has served as an on-air counterterrorism analyst with NBC News, appearing frequently on NBC Nightly News, The Today Show, MSNBC and CNBC.Prior to his White House service, Mr. Cressey served in the Department of Defense, where he worked on US defense strategy and the review of Pentagon war plans. From 1991–1995, he served in the Department of State working on Middle East security issues, including serving as a member of the US delegation to the multilateral track of the Arab-Israeli peace process talks.His overseas experience includes serving as a Pol-Mil officer with the US Embassy in Israel and with UN peacekeeping operations in Somalia and the former Yugoslavia. While in the former Yugoslavia, Cressey was part of a United Nations team that planned the successful capture of the first individual indicted for war crimes in Croatia. From 2001 - 2006, he taught a graduate course on U.S. counterterrorism policy at Georgetown University. He also served as a Fellow at the Center on Law and Security at New York University.He received his B.A. in Political Science from the University of Massachusetts at Lowell and an M.A. in Security Policy Studies from The George Washington University. Roger is the recipient of the State Department's Meritorious and Superior Honor Awards and the Defense Department's Exceptional Civilian Service Award.

12:30 PM - 1:15 PM
Lunch - Sponsored by Skoop Analytics, Inc.
1:15 PM - 2:00 PM
Identify Theft and Fraud - Current Trends in the Insurance Industry
Kevin Mattei, Esq. and Nicole Holler, Esq., McCormack, Mattei & Holler; John Reznikoff, Founder, University Archives
Identify theft occurs when someone uses another person's personal identifying information, such as their name, social security number, phone number, domiciled address and/or person financial information such as a bank account number and/or credit/debit card number, without their permission, to commit fraud against insurance carriers. McCormack, Mattei & Holler will discuss the real world application as to how this scheme is be performed by the bad actors and its use in creating fraudulent insurance policies through unauthorized insurance brokers; as well as its use in telemedicine and the abuse in sending carriers bills for "insureds" (patients) that never treated at the medical clinics. Through this topic, McCormack, Mattei & Holler will then discuss recent trends in the Insurance Industry specifically tailored to fraudulent conduct, including but not limited to, the role of bodily injury attorneys helping to "fund" intentional acts (e.g. a staged/caused loss); recent trends in rate evasion, factoring agreements where the medical clinics "sell" their accounts receivables; improper licensing and other indicia on how to avoid a fraudulent claim. McCormack, Mattei & Holler will also present forensic handwriting analysis as to how the laypeople "forge" the medical records and give a primer on how to help identify claims with fraudulent conduct.
Kevin A. Mattei is a Founding and Managing Partner of McCormack, Mattei & Holler. During his more than 19 years of practice as a litigator, he has represented clients in complex commercial and business cases, specializing in  entertainment, dispute resolution, labor law, personal injury, prosecuting and defending white collar crimes, as well as serving as chief corporate counsel to some of the country's largest Auction Houses and Insurance Carriers. Mr. Mattei has also represented celebrity cliental as well as celebrity estates and intellectual property owners regarding merchandise licensing, motion picture, television, and internet/new media related issues. Mr. Mattei is a nationally recognized speaker on trial and litigation strategy, investigatory techniques, has provided training to insurance carriers on identifying fraudulent claims, while also training SIU units on how to obtain effective testimony in the areas of white collar fraud, insurance fraud and the corporate structure of health care providers. Mr. Mattei has several published decisions and has also assisted in the drafting of sections of New York's Pattern Jury Instructions and McKinney's Practice Commentaries. Mr. Mattei graduated from Albany Law School where he worked as a Research Assistant under Distinguished Professor Patrick Connors while also serving as a member of the prestigious Albany Law Review.
Nicole E. Holler is a Senior Partner of McCormack, Mattei & Holler. Ms. Holler has extensive experience litigating complex commercial and business cases, specializing in entertainment, dispute resolution, labor law, personal injury, prosecuting and defending white collar crimes, real estate as well as serving as chief corporate counsel to some of the country's largest Insurance Companies. Ms. Holler did her undergraduate study at University of Pittsburgh where she graduated magna cum laude while serving as a member of Phi Alpha Theta (History Honor Society) and was an active member of Phi Alpha Delta (Pre-Law Honor Society). Ms. Holler is also a member of the National Association of Professional Women.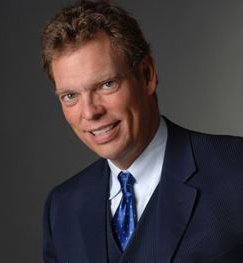 John Reznikoff first discovered the world of baseball cards, philately, and autographs in 1969 as a precocious nine-year-old. Ten years later the ambitious young businessman first established and incorporated University Archives.  John has now been in business for over 40 years. In that time, he has examined, cataloged, appraised, purchased, and sold hundreds of thousands of documents related to American, European, and world history. His expertise in handwriting authentication has brought him to the Library of Congress, and to the offices of many branches of law enforcement. He is as equally comfortable on the set of the History Channel's Pawn Stars as he is at international book fairs in Brooklyn, Boston, Manhattan, California, and London.  John's reputation as a handwriting expert in the autograph industry is unparalleled. In addition to serving as an authenticator and questioned document examiner, he is also a respected collector, dealer, and auctioneer. He is the only expert to opine for both accepted third-party authentication services PSA and JSA. John is frequently asked to evaluate the authenticity of items by Christie's, Sotheby's, RR Auction, and largest rare book dealer in the world, Bauman Rare Books. CBS News called John's expertise "the best in the world".
2:00 PM - 2:45 PM
Fighting Fraudulent DME Claims
Michael A. Sirignano, Esq., Partner, Rivkin Radler LLP
Fraud involving durable medical equipment has been a long-term and costly problem for insurers. Fraudulent DME providers continue to evolve the schemes, the types of products, and the billing patterns, including more recently focusing on billing for rental of DME. Hear the latest trends and tips for investigating and fighting DME fraud.
Michael Sirignano is Senior Partner with the law firm of Rivkin Radler LLP, which has offices in Long Island, Manhattan, Poughkeepsie, Albany, and New Jersey. Mr. Sirignano is a member of Rivkin Radler's Commercial Litigation and Insurance Fraud Practice Groups. He is also co-author of the Insurance Fraud Column in the New York law Journal and has many years of experience handling claims and litigation involving fraud in the healthcare and automobile insurance industries.
2:45 PM - 3:45 PM
Don't Let the Cats Out ~ Catalytic Converter Theft and Key Fob Investigations
Thomas Burke, Detective, NYPD Auto Crime
There has been a notable rise of investigations in catalytic converters and key fob thefts recently.  As a result, the NYPD Auto Crime Unit has instituted a counter theft program using a serial number engraving label on catalytic converters, to deter thieves from stealing and selling the converters to scrap yards for the vehicle exhaust system's expensive metals.  While car owners often believe their sophisticated entry system should deter criminals, thieves often use sophisticated technology to intercept and mimic key fob signals on push-button start vehicles and now account for almost half of all 'theft of' vehicle claims.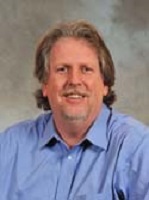 Thomas Burke is an Active 1st Grade Detective Investigator with the New York City Police Department with over 32 years of experience. Federal and State Court certified expert in all aspects of vehicle related crimes, including forensic vehicle identification, vehicle theft, vehicle identification numbers (VIN's), insurance fraud, hidden compartments, street racing and vehicle/parts appraisals. Received numerous awards and recognition in forensic investigations, including the Times Square Bomber and Leiby Kletzky murder investigation. Director of NYPD's "Fundamentals of Auto Crime" course for over eleven years, college accrediting more than 12,000 students in the art and science of auto crime investigations. Lecturer throughout the United States and Canada on all aspects of vehicle related crimes including organized crime, terrorist links and forensic photographic investigations. Method of instruction leaves students attending with more than a trade, but rather the ability to ask intelligent questions and think of logical answers, providing a value to themselves and to their employers. Board member of New York Anti Car Theft Committee (NYACT), New York State Motor Vehicle Theft & Insurance Fraud (MVT&IF) Grant Writer (2016/ $193,000) . President International Assoc. of Auto Theft Investigators (IAATI NE Chapter), President Auto Crime Inc. Adjunct Professor in Criminology, 400.00 course series, John Jay College, NYC.
3:45 PM
Conclusion
*Agenda subject to change.
---
Event and Registration Information
You must register to be vetted and attend the event.

If you already have a NYACT profile, please sign in and register under your profile.

Anyone not preregistered and vetted will be removed from the training.

You will need have your name accurately displayed for vetting purposes.

If you are attending virtually, we must be able to identify you or you will be removed from the meeting.  
Your FULL name must be identifiable.  If you are removed from the meeting, check your Zoom account to be sure your name is correctly entered by: Go into Settings > My Profile (Click on your name at the top) >  Display Name > Edit name > Save.

A log-in link will be sent to you a day or two prior to the event.

Your Certificate of Attendance will reflect however you input your information so please use proper sentence case when completing registration (ie: Jane Smith, ABC Insurance Company).

Schedule and speakers subject to change.

Registration Includes Lunch
Your Certificate of Attendance will reflect however you input your information so please use proper sentence case when completing registration (ie: Jane Smith, ABC Insurance Company).
---
2021 ANNUAL STATE EDUCATION CONFERENCE AWARDS
Each year, the NYACT Board of Directors requests nominations from member companies and organizations for the following awards to be presented at the NYACT Annual Education Conference. 
THE JOE McDONALD AWARD
OPERATION SLEDGEHAMMER: AUTO INSURANCE FRAUD RING  
Roger Bock, Investigator
Patrick Coughlin, Investigator
Michael Occhicone, Senior Investigator
Westchester County District Attorney's Office - Auto Theft Unit
Pursuing a lead related to a suspected fraudulent insurance claim by an Auto Body Shop in New Rochelle, Investigators assigned to the Auto Theft Unit of the Westchester County District Attorney's Office were able to identify multiple suspected frauds which led to a much larger collaborative investigation concerning Automobile Body Shops. Investigators developed this investigation using both traditional and non-traditional methods and soon identified an enterprise insurance fraud scheme operating in lower Westchester and the Bronx. Exhausting traditional methods of investigation, hundreds of suspected damage enhancement and even totally fabricated fraudulent insurance claims were identified. Thousands of insurance documents and related reports were obtained and reviewed. Utilizing multiple surveillance methods, fraudsters involved from suspect body shops were observed damaging vehicles with sledgehammers, thus the investigation was titled: Operation Sledgehammer. Working with their many law enforcement agency partners, court ordered eavesdropping was sought and authorized which led to several months of wiretapping of suspect phones. The investigation yielded the identification of millions in suspected insurance fraud. Together, the investigative team executed five wiretap investigations, 34 Search Warrant Executions, seized over $383,000, six handguns, high end luxury vehicles including a BMW, Aston Martin, and two Bentleys. To Date, nine defendants and five businesses were charged with Enterprise Corruption (a Class B Felony) for defrauding insurance companies by enhancing motor vehicle damage and falsifying insurance claims. Six other individuals were charged on separate felony complaints with other crimes relating to this scheme. Additional felony offenses included: Grand Larceny in the Second Degree, Money Laundering in the Fourth Degree, Insurance Fraud in the Third Degree, and Grand Larceny. Additional Arrests are anticipated.
---
THE JOHN J. KENNEDY AWARD
ROBERT LEWIS
Progressive Casualty Insurance Company
Bob Lewis investigated an individual who specialized in identity theft, broker activity & arranging caused losses. That is an unauthorized broker who stole identifies, called in as these insured parties and even appeared in one loss as an Unlisted Driver.  There was a total of 45 plus losses occurring at intersections in Nassau County & Brooklyn, NY. Bob was able to establish links through the SSID, emails, phone numbers, & payment types. The losses were also linked to the same medical facility in Brooklyn.  As a result, Bob worked with investigators Upstate to ensure that the providers were elevated and EUOs were scheduled. Those providers voluntarily waived billing at this suspect address. In addition, Bob developed strategies with the Progressive Product Team to ensure policies were canceled within the Free Look Period. Bob was able to secure video of some of the losses, obtain sworn statements from innocent parties, and collaborate with other carriers. The activity has significantly decreased resulting from Bob's efforts. The amount of impact including PIP & BI Features is $1,174,618.00.
---
Honorable Mentions for the McDonald and Kennedy Awards
John Diminno, Liberty Mutual Insurance
Shiry Gaash, Suffolk County District Attorney's Office
Hana Kim, Queens County District Attorney
Maureen Stefenelli, NYPD - Major Investigations Unit
Shawn Taylor, NYS DMV DFI
SIU Albany - Auto Theft Unit (ATU) - Matthew Huss, John Knoetgen
---
 LIFETIME ACHIEVEMENT AWARD
Stephen Englert
Hereford Insurance Company
William Mitzeliotis
Liberty Mutual Insurance Company
---
CERTIFICATES OF MERITORIOUS ACHIEVEMENT (Law Enforcement)
Anthony Gonzalez, NYS DFS Insurance Frauds Bureau
Nicholas Lorusso, Suffolk County District Attorney's Office
Daniel Parella, Suffolk County Police Department
Shawn Taylor, NYS DMV DFI
Michael Visconti, NICB

CERTIFICATES OF MERITORIOUS ACHIEVEMENT (Member Insurance Companies)

Julie Arce-Morales, Allstate Insurance Company
Jocelyn Maresco, Travelers
Oscar Rodriguez, Progressive
Team Liberty: Joe Padovano & Scott Fritzsch, Liberty Mutual Insurance
Griselda White- Bristol West Insurance Company ( A Farmers Insurance Company)
---
THANK YOU TO OUR 2021 NYACT ANNUAL CONFERENCE SPONSORS!
LUNCH SPONSOR

---
 BOOTH SPONSOR